American Public Media and Apple® present Word for Word, Marketplace, Speaking of Faith, American RadioWorks and other signature public radio programs on iTunes U. Get free, easy access to in-depth audio journalism that spans the globe and expands your mind with:
Downloadable programs and interviews, searchable by subject
Printable transcripts
Discussion questions
Links to online resources: annotated program notes, primary source information, reading lists, interactive timelines. K-12 lesson plans -coming soon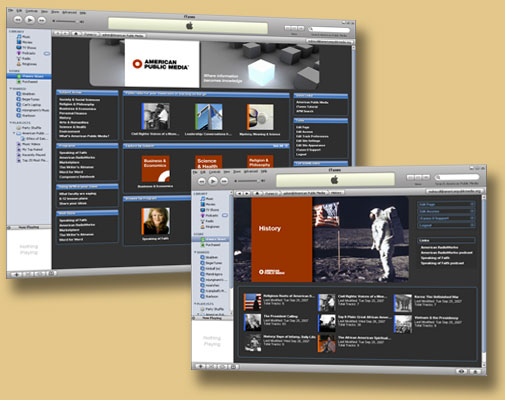 Educators are using American Public Media programs as the centerpiece for entire courses or to support existing curriculum. Students are creating independent study and research projects around our programs, web sites and related resources. Explore economics, science, history, health, religion and philosophy with one of the nation's most trusted sources – public radio.
What is iTunes U?
iTunes U is Apple, Inc.'s educational platform, giving higher education institutions an ingenious way to get audio and video content out to their students, including presentations, performances, lectures, demonstrations, debates, tours, and archival footage. iTunes U is part of the iTunes music store so users can download course materials using the familiar interface.
Find out more about iTunes U from Apple
How do I access iTunes U?
Go directly to American Public Media's site on iTunes U
You can find iTunes U in the iTunes Music Store. In the left navigation pane, click the iTunes U link. Then, find American Public Media in the list of content providersin the left navigation pane of iTunes U.
Note: You will need to have iTunes installed on your computer. If you don't already have it, you can install it free from Apple's web site.
Find out what faculty are saying about American Public Media educational content.